Office Equipment Recycling Services
At Recycling Your IT we will handle all your office equipment recycling needs with a 100% guarantee of data security, and another 100% guarantee of environmentally friendly treatment of your end-of-life IT assets.
We can collect at any time to suit you. We will provide you with the correct certificates to meet current and future Environment Agency requirements, and we can also provide data security certification so that you can prove you have fulfilled your legal obligations under the data protection act.
We can also take away any other electrical items that fall within the WEEE directive (waste electrical and electronic equipment), such as fridges, heaters, and fans.
We operate in full accordance with the WEEE directive and other quality assurance legislation. Our qualified and experienced Office Equipment Recycling team collects computers and other IT equipment causing minimal disruption to your workplace.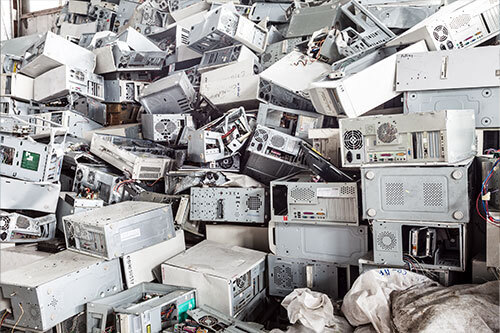 Our Office Equipment Recycling Services
We offer a safe and secure way to dispose of all your redundant or surplus IT equipment. Our comprehensive Office Equipment Recycling Services also ensure complete data security. Our services are efficient, secure and eco-friendly.
Normally our Office Equipment Recycling Services include:
However, if you have any office equipment that isn't on this list, then please do get in touch as we may be able to help.
IT Asset Disposal
Collections
Tonnes of e-waste kept
away from landfill
Please note – we are a corporate IT / WEEE recycling company. Unfortunately, we are unable to collect single items or household electronics.
Our Office Equipment Recycling process is 100% eco-friendly and adheres to all the Electronic Equipment Recycling and Disposal norms. We are fully licensed by the Environment Agency for the Collection, Refurbishing & Recycling of computers and IT equipment. Recycling Your IT offers the best possible Office Equipment Recycling Services.
So go ahead and make a difference! Let Recycling Your IT take on your Office Equipment disposal requirement right away!

Book A
Collection

IT Asset
Audit

Tracked
Collections

Secure Asset
Disposal

Document
Certification
Slide
We have found the collection process to be both simple and flexible and are looking forward to continuing the relationship into the future.
Slide
We are very pleased with the service you have provided us, and will recommend your company to whom it may be of interest.
Slide
I found Recycling Your IT to be extremely easy to do business with.
Slide
Recycle your IT have constantly stepped up to the challenges and supported our needs with 100% efficiency and have never fallen short of their promise.