At Recycling Your IT, we run a profit-sharing scheme whereby depending on the value of the equipment we collect you can gain a share of any profits. A proportion of the profits gained from our remarketing services can be shared back to you, the client. This scheme can help you make substantial annual savings and helps to offset any of the costs involved with upgrading to new equipment.
The majority of assets that come through our doors are refurbished and remarketed, giving equipment a second-life and helping work towards a more sustainable environment. Our aim is to extend the life of IT equipment for as long as possible, not only offering money back to our clients but helping to preserve the planet as well. The graph shows the likely depreciation of an IT asset that was bought for £500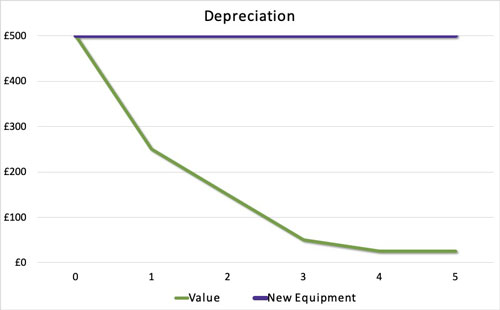 The money we offer back unsurprisingly depends purely on the value of the equipment. Often equipment under 3 years old will still hold some value, making the chance of a rebate significantly more likely. It is not always possible, but it's something that is worth exploring if you upgrade your IT equipment more frequently.
If this is an area your business wants to explore then please get in touch to find out more, our knowledgeable team will be able to discuss this with you in more detail. We offer a transparent service with our clients.
IT Asset Disposal
Collections
Tonnes of e-waste kept
away from landfill
Please note – we are a corporate IT / WEEE recycling company. Unfortunately, we are unable to collect single items or household electronics.
Our remarketing team are experts in realising the value of an item, the more information you can supply us with e.g. serial number, components, storage disks etc. the better estimation we can make of how much potential rebate you could receive.
What better way than to make use of redundant IT equipment than be able to sell it on without incurring additional time and effort for yourselves, we take care of everything for you. Offering an end to end service. Including collection, secure data wiping and remarketing.
Give us a call today to find out more, on 01279 215000 to see how much you could receive back from disposing of your redundant IT equipment.

Book A
Collection

IT Asset
Audit

Tracked
Collections

Secure Asset
Disposal

Document
Certification
Slide
We have found the collection process to be both simple and flexible and are looking forward to continuing the relationship into the future.
Slide
We are very pleased with the service you have provided us, and will recommend your company to whom it may be of interest.
Slide
I found Recycling Your IT to be extremely easy to do business with.
Slide
Recycle your IT have constantly stepped up to the challenges and supported our needs with 100% efficiency and have never fallen short of their promise.