Secure Data Destruction, fully certified & compliant service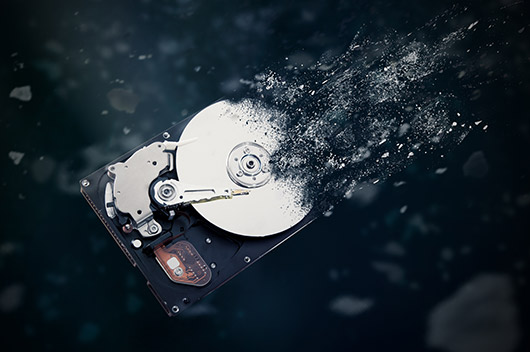 Safely wiping and destroying sensitive data from hard drives. We all store more of our lives now on our computers, laptops, tablets and smartphones. As a business, you and your staff have made every effort, through internal processes, to protect and manage your data to enable your business to grow. Now it needs to be discarded along with retiring your IT assets and equipment.
Get a Quick Quote
Please note – we are a corporate IT / WEEE recycling company. Unfortunately, we are unable to collect single items or household electronics.
At Recycling Your IT we guarantee 100% data information security. This is important to help you to:
Maintain your reputation
Protect your networks and infrastructure
Maintain your competitive position
Information Eradication
Having decided to use a recycler who can certify that your data has been totally eradicated, there are just a few decisions to make before booking a collection. Our helpful experts can talk you through the best options to meet your requirements; this will include how to:
Choose the method of data destruction
Align your internal process to ensure an audit of outgoing inventory
Satisfy compliance
Choosing the Method for Data Destruction
The basic choice comes down to either data wiping or physical destruction.
Other methods are available, but at Recycling Your IT we have found them to be either unreliable or unnecessary.
Software Erasure
This is a process where we eradicate data from storage devices by over writing the information with pseudo-random information multiple times, thus eliminating any trace of what used to be there.
We use Blancco Drive Eraser software, giving us the ability to erase drives at your premises or on a larger scale at our own facility. The tools we use are approved for this purpose by HM Government's Communications electronic Security Group (CESG).
Secure Off Site Data Destruction
This is the most cost-effective solution, and the quickest way of destroying your data. We take the computing equipment back to our base and choose the best method for destroying the data. Whether that be erasure software or physical destruction is dependent on your requirements.
Secure On Site Data Destruction
For those clients who want the ultimate service in terms of actually seeing their data be destroyed, we have equipment, software and expertise that we can bring to your site. We use a mobile hard drive shredder to destroy drives, this can fit through any doorway or can even be left on one of our vans to ease the disruption to your daily activities.


Hard Drive Physical Destruction
This method is less environmentally friendly than wiping the data, as the drives cannot be re-used, however some customers do prefer this method. Normally this involves taking the equipment way from your site, and physically destroying all data bearing equipment at our secure location.
We do also have the capability to destroy the drives at your site using portable hydraulic equipment that can be mounted in a vehicle and operated near your premises, say in a car park. This also physically destroys all data bearing equipment.
Processes for Ensuring Audit of Inventory
You will most likely have a list of your IT assets, all identifiable by unique codes. We can guarantee you the peace of mind that all of your assets are processed by ensuring that our internal processes are aligned with yours before any job is undertaken. This can be easily addressed by our helpful staff at the time of placing an order.
Compliance Satisfaction
Certified Data Destruction means that you will get the appropriate documentation to prove that your data has been completely eradicated
Our methods ensure the following features:
Provides assurance that confidential data can never be accessible again
Secure processing of equipment is to the level approved by HM Government Security Services
Certificates of data destruction provided
Call us

today on 01279 215000 to find out how we can help you dispose of your IT equipment in a socially responsible way.
For more information please read https://www.recyclingyourit.co.uk/data-destruction-services/