PC Recycling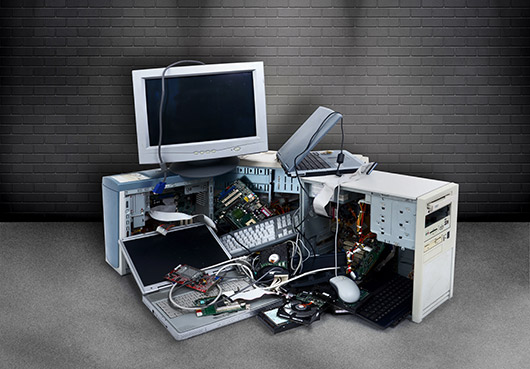 Personal Computers form a major chunk of the IT Equipment & IT Hardware that need disposal. We offer complete Personal Computer Recycling solutions to our clients. Our PC Recycling solution includes disposal of any additional PC equipment like:
Monitors
LCD Screens
PC Towers
Keyboards
Desktops
Graphics Cards
UPS
Recycling Your IT's PC Recycling Services ensure that we maximize the recovery of any components of a PC that can be reused. Any equipment that cannot be reused is sent for recycling. With our expertise at PC Recycling, the IT Equipment is separated depending on the type of material. Materials like plastic, ferrous and non-ferrous metals and parts such as circuit boards and batteries that cannot be burnt or buried are dispatched for recycling. This PC Recycling service breakdown from the Computer Recycling process is part of a system that allows us to provide a full audit trail to our clients.
PC Recycling services also include data wiping and destruction of hard drives through to full asset management if required.Ranging from wiping hard drives using specific software, or physically destroying drives e.g. shredding, crushing and degaussing.
Our PC Recycling services include the ability to come to site and remove equipment for clients as required.Onsite or offsite we adopt all the best industry practices/standards to help meet your needs, no matter how big or small.
Call us

today on 01279 215000 to find out how we can help you dispose of your IT equipment in a socially responsible way.