It's quite simple, just purely economies of scale. As long as you've got enough equipment, or there is enough perceived value to exceed any costs involved in collecting and processing, then there is absolutely no charge, and that includes all of the paperwork that you might need – Environment Agency "Duty of Care", "Consignment Notes", and "Data Destruction Certificates".
We operate in line with the European WEEE directive and GDPR, aiming to process your old equipment to be reused for its original purpose if possible; but if not, any item which can't be reused will be recycled for spare parts and raw materials, meaning nothing ends up in landfills.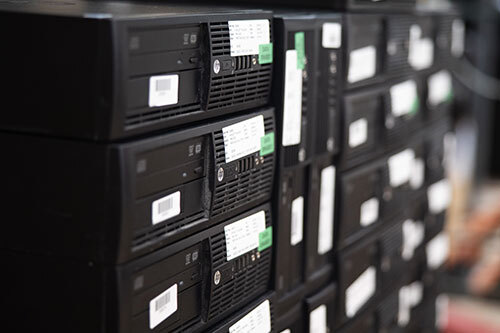 All recycling is carried out to European Union regulations and in line with the Environmental Protection Act 1990. All hard drive information is either securely eradicated or permanently destroyed in line with the General Data Protection Regulations, dependant on your specific requests.
If you would like to drop IT equipment off at our recycling facility, this service may also be free, and must be booked at least 24 hours in advance.
If we have to charge, there is a set fee depending on your area. This can be paid by a 30-day invoice or credit card whatever suites you best.
IT Asset Disposal
Collections
Tonnes of e-waste kept
away from landfill
Please note – we are a corporate IT / WEEE recycling company. Unfortunately, we are unable to collect single items or household electronics.
We continually monitor our collection prices, taking into account current commodity prices, therefore depending on the prevailing situation, our charges can go down as well as up. Our aim is to be as fair as we can with our customers. If you are able to send over a detailed asset list then that will enable our team to give a more accurate estimate on whether there will be a cost or not.
We have a full range of tracked vehicles so can cope with any size collection. We have access to unmarked vehicles for security purposes and our staff are all fully checked to provide an exceptional service.
For more information on how you can qualify for a FREE collection, please get in touch today.

Book A
Collection

IT Asset
Audit

Tracked
Collections

Secure Asset
Disposal

Document
Certification
Slide
We have found the collection process to be both simple and flexible and are looking forward to continuing the relationship into the future.
Slide
We are very pleased with the service you have provided us, and will recommend your company to whom it may be of interest.
Slide
I found Recycling Your IT to be extremely easy to do business with.
Slide
Recycle your IT have constantly stepped up to the challenges and supported our needs with 100% efficiency and have never fallen short of their promise.
Call us today on 01279 215000 to find out how we can help you dispose of your IT equipment in a socially responsible way.
Call us
 today on 
01279 215000
 to find out how we can help you dispose of your IT equipment in a socially responsible way.