WEEE Compliant Computer And IT Recycling For Education
Recycling Your I.T. are experts in removing IT assets and sensitive data from education facilities. We are based in Essex but can reach all surrounding counties as well as London. The Education sector has changed considerably over the last two decades, with enhancements in technology, meaning they require our services more than ever.
Many students enrolled into colleges and universities now use mobile devices and tablets. However, the speed of technology advancements has led to challenges for institutions as well. At Recycling Your I.T. we help our clients by repurposing redundant IT assets, giving them a second life and helping institutions to limit their carbon footprint. We also offer data destruction services to ensure data is completely eradicated or destroyed, quashing the risk of hackers getting hold of sensitive information.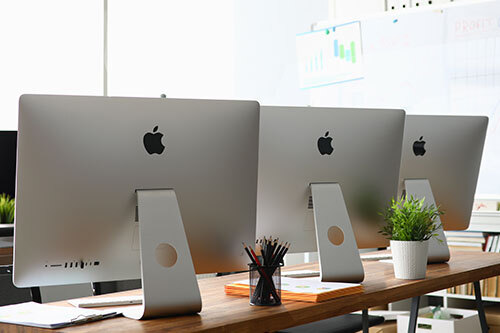 We can collect all forms of IT equipment, our aim is to reuse as much as possible after data eradication, however upon request we can destroy all storage devices using our mobile HDD shredder or other methods such as degaussing.
Our current portfolio of clients includes many universities, colleges and schools. We are able to operate onsite and offsite – whichever suits you, we aim to minimise the disruption to your daily activities as much as possible.
IT Asset Disposal
Collections
Tonnes of e-waste kept
away from landfill
Please note – we are a corporate IT / WEEE recycling company. Unfortunately, we are unable to collect single items or household electronics.
The process is simple, after receiving an enquiry, someone from the Client Care team will contact you to gather information on the task in hand. When the time and date have been agreed as well as the list of items to be collected, one of our securely tracked GPS vehicles will make its way to your premises. The driver will then carefully, securely and efficiently remove the items from your premises and make their way back to our premises. Every asset will be barcoded, so it can be tracked through every step of the process. Hard drives will be logged then erased or destroyed. If the asset can be resold it will go through to our Product Sales Team where the selling process takes place.
"We have been using RYIT since 2010 to securely collect and dispose of our redundant IT equipment and e-waste. The flexible approach helps us meet our strict obligations surrounding information governance and data security as well as providing certificates for data destruction/erasure. They are always polite and punctual, and we would recommend them to anyone who is looking for a solution to their IT recycling needs" – CORNWALLIS ACADEMY

Book A
Collection

IT Asset
Audit

Tracked
Collections

Secure Asset
Disposal

Document
Certification
Slide
We have found the collection process to be both simple and flexible and are looking forward to continuing the relationship into the future.
Slide
We are very pleased with the service you have provided us, and will recommend your company to whom it may be of interest.
Slide
I found Recycling Your IT to be extremely easy to do business with.
Slide
Recycle your IT have constantly stepped up to the challenges and supported our needs with 100% efficiency and have never fallen short of their promise.