IT Recycling For Healthcare Industries, Licensed & Compliant
Many Healthcare companies we deal with require our services on a regular basis. Any data that is no longer needed, whether it be on previous patients or simply no longer relevant, must be erased or destroyed legally. Many medical devices will have some sort of storage device within them. We can ensure that the device has been completely destroyed or erased, meaning no data is left traceable.
RYIT can help you dispose of any IT related asset, from Desktop PCs, laptops and servers to network switches and mobile phones. Our aim is to provide a solution to your IT disposal requirements, we will work around you making sure the time we collect suits you.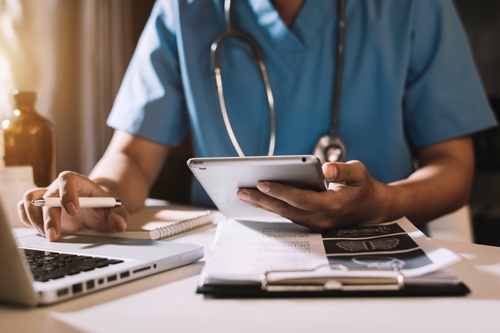 We take the stress away from data destruction by offering a high-quality service, whether it be onsite or at our secure facility in Essex. Our transparent way of working ensures you know where all data and assets are at every stage of the process.
With high profile data breaches recorded against some healthcare trusts and private service providers, the healthcare system comes to Recycling Your IT for the highest level of security and effective data cleansing services that we offer during processing of the vast amounts of equipment and data they need to dispose of every year.
IT Asset Disposal
Collections
Tonnes of e-waste kept
away from landfill
Please note – we are a corporate IT / WEEE recycling company. Unfortunately, we are unable to collect single items or household electronics.
Our certifications and accreditations help give our clients peace of mind that their data is in the best possible hands, with a company that has all the appropriate security measures in place, both physically and digitally.
"I just wanted to say thank you to the efficient, well organised and speedy service. Everything was collected on the date and time you provided in advance. Amazing!!!!! Thank you so much." – CHISWICK HEALTH PRACTICE
For more information please contact one of our experts on 01279 215000, or email [email protected]

Book A
Collection

IT Asset
Audit

Tracked
Collections

Secure Asset
Disposal

Document
Certification
Slide
We have found the collection process to be both simple and flexible and are looking forward to continuing the relationship into the future.
Slide
We are very pleased with the service you have provided us, and will recommend your company to whom it may be of interest.
Slide
I found Recycling Your IT to be extremely easy to do business with.
Slide
Recycle your IT have constantly stepped up to the challenges and supported our needs with 100% efficiency and have never fallen short of their promise.