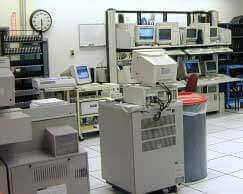 Recycling office equipment is becoming a growing concern. Electronic gadgets like computers, printers, copiers are the backbone of any modern business. Most of these office equipments get outdated within a short period of time forcing you to replace them with the advanced versions.
When you want to get rid of obsolete office equipment such as copiers and old printers you can no longer throw them into the trash since trashing such machines hurts the environment, and is illegal. So, you need to find an alternative to dispose of your outdated office machines.
Recycling-the alternative to trashing
Of course, recycling is a better alternative to trashing. Computers and other electronic office equipments contain batteries and other items that when disposed irresponsibly have an adverse effect on the environment. They often contain harmful materials, such as mercury, lead and arsenic that can become toxic waste in landfills and leach into the soil. So the best solution is recycling them.
In fact you are saving the environment, when you choose recycling instead of trashing. By ensuring appropriate recycling of your obsolete office equipments, you are creating a benchmark. This helps your business grow and in some cases can even save you from any possible legal actions by environmental agencies.
What electronic office equipments can be recycled?
Apart from computers and laptops, you can recycle other IT office equipments such as monitors (both CRT and TFT), scanners, printers, servers, keyboards and networking equipment. Office machinery such as fax machines and photocopiers also can be recycled.
Where to recycle your office equipments
Many companies that promise office equipment recycling services have sprung up all over the UK. These companies can collect your equipments and recycle them effectively.
Before giving your office equipments to recycling, make sure that the service provider strictly follows the Waste Electrical and Electronic Equipment (WEEE) directive. This directive requires them to employ recycling methods that will not bring any harm to the environment.
When you recycle office equipment, data security is of paramount importance. Computers, laptops, servers and even photocopier machines can contain important and confidential business information that you would not want falling into the wrong hands. Ensure your office equipment recycling service provider erases the data safely and completely from your computers, laptops and mobile phones and other storage systems. Also make sure that they provide a certificate of destruction, data protection and insurance records.
Be sure that your office equipment recycling service provider is reputable and is concerned about the environment as about profits. Find out whether they maximise the recovery of the reusable equipments.
Find out how Recycling Your IT can make Office Equipment Recycling easier and more secure for you.
Call us

today on 01279 215000 to find out how we can help you dispose of your IT equipment in a socially responsible way.