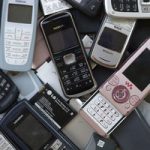 Given just how many of us have mobile phones, and how many different components are inside them, it should be no surprise that most of us have been wasting a significant amount of recyclable material.
In fact, around 80% of the material in the average phone is recyclable, from silver to certain plastics to rare earth metals in the microchips. Phones can be reused, recycled, and often restored, so simply throwing them away is rarely the wisest or most sustainable option.
The ways to make better use of your old phone continues to grow, as does the number of people who are willing to take the extra step to avoid the unnecessary waste. Here are a few of the ways that you should consider getting rid of it.
Before you find a way to reuse or recycle your phone
Though many of the companies and organizations that take in recycled or pre-owned phones will wipe them as a policy, it's your responsibility to protect your personal data and to ensure it doesn't fall into the wrong hands.
Make sure that all of your data is removed from your mobile phone before sending it to be recycled. Your phone manufacturer's website may contain information on how to wipe personal data from your phone, or Google how to wipe it for Android or iOS phones.
Ways to sell or donate your phone
Many shops that sell phones will be glad to take them back off your hands, and most charities will accept older mobile phones, regardless of whether they are working or not. They often refurbish or recycle them to sell them again, or they can make some money by passing them on to mobile phone recycling companies.
 You can also help someone who is in need of a new phone by looking at websites that allow you to donate your old items and find people who are willing to take them off your hands. Again, it's essential that you wipe all you personal data before giving your old phone to someone else.
You can also take your old phone directly to the majority of standard waste and recycling locations, where you can put it into the small electricals container.
Should you sell it?
Online marketplaces like eBay and Gumtree allow you to sell your phone to others, easily. You might not get the best price for them, and should be careful to ensure that you're not selling your personal data, too, but it could be a way to make a few quid while getting rid of the phone. However, it can take some time.
Why consider Recycling your IT
At Recycling Your IT, we provide an easy and convenient way to send your old mobile phone sent in and to have it recycled and to ensure that it's being used as efficiently and sustainably as possible.
While we do not offer money in exchange for old phones, we ensure the best possible use of it. First, we use specialist software to shred all data from your phone, making sure your personality information is as protected as possible. Then we actually shred the phone physically, sorting it into different component materials to make sure that everything that can be reused or recycled will be.
Get in touch by calling on 01279 215000 to find out more about our IT disposal services , and to get rid of your old phone in the most socially responsible way possible.