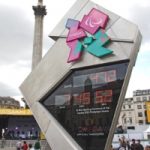 Lord Coe's claim that London 2012 will be the greenest ever Olympic Games is "corporate spin" say human rights groups, who have launched a campaign to highlight the environmental record of three multinational sponsors.
BP, Rio Tinto and Dow Chemical Company, who have paid tens of millions of pounds to become Olympic sponsors, collectively face allegations of causing environmental degradation, damaging public health and failing to clean up their pollution.
The companies, who are respectively providing fuel for the Olympic fleet, metal for medals and an ornate stadium wrap, will be criticised by a coalition of international grassroots organisations as part of their 'Greenwash Gold 2012' campaign in London.
All three companies maintain they are socially and environmentally responsible, and invest millions in clean technologies and community programmes.
Rio Tinto said it is providing the eight tonnes of metal for 4,700 gold, silver and bronze medals from its mines in Utah and Mongolia. The company is accused of threatening the existence of nomadic indigenous people in Mongolia who are being displaced by the operation. The Oyu Tolgoi mine in the South Gobi desert is already placing significant strain on scarce water resources, warned the London Mining Network.
BP has a prominent role in the Olympics, providing the fuel for 5,000 vehicles in the Olympic fleet, sponsoring teams and the Shakespeare festival as part of the Cultural Olympiad.
BP's controversial venture in Alberta, Canada is regarded by campaigners as evidence that the company's environmental claims do not stand up. The extraction and processing of tar sands in order to make oil is carbon intensive, polluting and damaging to the Eco system, whichever technology is used, they say.
Dow is sponsoring the £14m Olympic stadium wrap. It also has contracts to provide the artificial grass for hockey pitches and roof insulation for some stadiums and accommodation in the Olympic village.
Campaigners say Dow's failure to make Union Carbide Corporation, its wholly owned subsidiary since 2001, appear before the Indian criminal court to face outstanding charges related to the 1984 Bhopal gas disaster, and its refusal to pay a share of the clean-up of contaminated water and land, make it an unsuitable Olympic partner.
So is it rather ironic that we are awarding athletic excellence using metals mined from a community where allegedly children's lungs are being damaged by toxins produced by the mining?