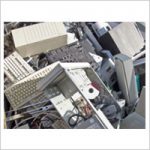 Now that the Environment Agency has released new directions to make sure that waste electrical and electronic equipment (WEEE) from businesses isn't wrongly classified as household WEEE, using a reputable computer and electrical equipment recycling company to deal with electronic waste is becoming even more important.
WEEE from commercial or industrial sources can currently be classified as WEEE from private households providing it is of a similar nature and quantity. On 14 April 2012 the Agency issued guidance with regards to classification in response to concerns that large amounts of business-to-business WEEE were being documented as business-to-consumer WEEE.
The guidelines make it clear that a business disposing of more electrical or electronic items than an ordinary household would, or more frequently, won't be able to justify classing this as business-to-consumer WEEE. They have also stated that it is unacceptable for businesses to get rid of their WEEE in small batches as a way around this.
The Agency is going to monitor the levels of business-to-consumer evidence created and WEEE recyclers will be responsible for providing an audit trail justifying the classification of business-to-business WEEE as that of business-to-consumer.
If you're concerned that this will affect your business, then it is more important than ever to make use of a reputable computer and electronics recycling company to meet your WEEE obligations.
Choosing a reputable computer recycling company
When choosing a company to deal with your computer and other electronic and electrical equipment recycling, you should take the following into account:
It is essential that they strictly follow the WEEE directives which require them to employ recycling methods that won't harm the environment.
Ensure that they are fully licensed by the Environmental Agency and insured to deal with your type of WEEE.
They should maximise the recovery of computer components that are still usable and then recycle the rest.
Check whether they hold the relevant ISO standard and whether their environmental policy conforms.
A good IT recycling company will also offer effective data destruction services to ensure that no sensitive information gets into the wrong hands.
They need to provide you with a Waste Transfer Note so that you can prove that you have fulfilled your own obligations if required.
Confirm exactly what the charges are and look for clear pricing structures.
As a business in the UK you have an obligation under the WEEE directive to ensure that the company you use is properly licensed and to get a Waste Transfer Note when they take responsibility for your waste.
There are companies out there who will offer to deal with your electronic waste or recycle your computers very cheaply but chances are that they are not licensed to deal with hazardous waste. It is illegal to use these companies and can not only result in heavy fines but can also lead to imprisonment. It really isn't worth taking the chance in order to cut costs.
You can read more about our company's computer and electronic waste recycling services on our website or give us a call to find out how we can help you ensure you meet your legal obligations with regard to WEEE.