Used Copiers Hold Secrets, why you should properly recycle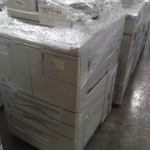 Many companies are unaware that almost all Digital Copiers since 2002 contain a hard drive. Every copy, scan, email and fax is stored on these hard drives. This could be a time-bomb for your business!
It takes about half an hour to remove the hard drive. Then all you need is a forensic program easily available on-line for free! You can download tens of thousands of documents in less than 12 hours.
A well known American TV station recently commissioned an expert to go and buy four used copiers and extract the data on them. The machines were brought from a warehouse which at the time was holding 6000 units, most bound for foreign shores.
The machines were brought on price and the number of copies they had done. They had no idea where they were from until they powered them up. The first machine showed that it was from the Buffalo Sex Crimes Unit. It showed detailed documents on domestic violence complaints and a list of wanted sex offenders. The second machine came from the same Police Department with a list of major drug raids. The third from a New York Construction Company spit out designs plans for a building near Ground Zero. 95 pages of pay stubs with names, addresses and social security numbers along with $40,000 of copied cheques. The fourth machine and probably the most damming came from a New York insurance company. It showed 300 pages of individual medical records. They included everything from prescriptions, to blood tests, to a cancer diagnosis.
Manufactures of copiers have taken note that this is a serious problem which they have caused. You now can buy an optional extra which deletes copies as they are done however it is not cheap ranging from £300-£500. Alternatively go to a well known WEEE recycling company and for a fraction of that cost they can remove the hard drives and eradicate the data for you, obviously Recycling Your IT is one of those companies.
Brighter Times Ahead!
Firstly, welcome to our first newsletter. We are aiming to run this quarterly with up to date recycling news but would always welcome any input from our readers, perhaps even the odd funny story.
Having been round for a few years and worked through our last recession, times like these weed out the weak amongst us. Let me explain further what I am trying to say; When times are good you get companies popping up everywhere trying to duplicate what you do at a fraction of your price, and in our case many times for free. Time and time again I tell my sales staff "I would rather have less customers paying me a reasonable fee to be able to offer them a great service, than more customers that I can't afford to service properly" In my mind these companies come and go. Good service whatever industry your in costs, it is simple mathematics. In the first quarter of this year a loan we have picked up more new customers than the whole of 2009. I truly believe that this is because our customers share the same philosophy as us. So keep it up chaps because we will all come out of the end of this stronger and more profitable.
Proud Stage Sponsors of the Kelvedon Free Music Festival
Do you fancy a great day out with the family. Recycling Your IT are proud stage sponsors of the Kelvedon Music festival. The good news is that its free!!! It will be a great day out for all so hope to see you there. Be early as 6000 expected.
Cost Of Recycling
One of the biggest objections we come across when speaking with potential clients is the fact that a number of companies will collect your old electrical equipment for free.
Free however generally means unreliable but also and most importantly, the items are being exported abroad to third world countries where child labour is exploited.
Recent reports indicate that huge numbers of NHS computers have been dumped in Ghana. Children working in the most horrible of conditions, are melting down the precious metals over open fires to earn money. Most ICT equipment contains many harmful toxins which are released under these condition and ingested by the children causing all sorts of health issues. Also information left on these machines can be accessed by criminals and used for all sorts of crimes; extortion, blackmail, password etc.
Under the Data Protection Act 1998, public sector organisations have a Duty of Care to make sure that all records are removed from ICT equipment before they are disposed off.
The Waste Electrical and Electronic Equipment (WEEE) Directive, insists on both individuals and organisations acknowledging their environmental responsibilities. Businesses are Governing bodies are strongly recommended to only dispose of ICT equipment via an external agency authorised and registered to dispose of such waste.
Kevin Dolan
Eco Warrior
Call us

today on 01279 215000 to find out how we can help you dispose of your IT equipment in a socially responsible way.