IT and Computer Recycling In Suffolk
Recycling your IT offers completely eco-friendly and WEEE compliant computer recycling for Suffolk based businesses. We offer100% secure data destruction; asset tracking and quality assurance documentation making us a preferred vendor for IT recycling.
Many businesses in Suffolk have made their IT recycling requirements hassle free by entrusting us with their entire IT Equipment recycling needs. We are used to operating in corporate environments around employees who are trying to get on with their everyday jobs, so we will commit to do our job with minimum disruption to you.
We are fully insured and hold all relevant certification to make sure your old IT equipment is recycled, reused or disposed of in the correct manner, giving you peace of mind.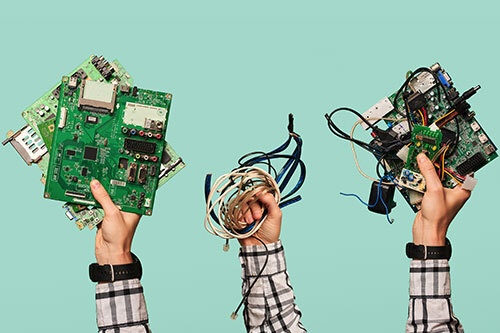 We have a variety of IT recycling services for Suffolk:
If you are a Suffolk based business with old computers that you need disposing of, we will collect from your premises, wipe and data and ensure as much is recycled or reused as possible.
We offer secure data destruction services to protect your businesses sensitive data, we can do this on or off site depending on your preference.
This ensures your business adheres to all current WEEE legislation surround old IT equipment.
IT Asset Disposal
Collections
Tonnes of e-waste kept
away from landfill
Please note – we are a corporate IT / WEEE recycling company. Unfortunately, we are unable to collect single items or household electronics.
Our computer recycling facility is based in central Essex near Brain tree and we can organise swift collection of your redundant IT equipment from Suffolk. Our policies ensure that the minimum amount of waste reaches landfill sites. Where possible we attempt to reuse what we collect,however,if this isn't achievable we will break the assets down and send the raw materials off to specific recycling refiners.
We offer secure data destruction services to protect your businesses sensitive data, we can do this on or off site depending on your preference.
To contribute your bit to the environment, use Recycling Your IT's no hassle services for your computer recycling needs. Our team have a wealth of experience and expertise in this area and can advise your business of their obligations under all current legislation surrounding the recycling of computers in Suffolk.

Book A
Collection

IT Asset
Audit

Tracked
Collections

Secure Asset
Disposal

Document
Certification
We have found the collection process to be both simple and flexible and are looking forward to continuing the relationship into the future.
We are very pleased with the service you have provided us, and will recommend your company to whom it may be of interest.
I found Recycling Your IT to be extremely easy to do business with.
Recycle your IT have constantly stepped up to the challenges and supported our needs with 100% efficiency and have never fallen short of their promise.