Secure IT Recycling in Surrey
Recycling Your IT provides a variety of electrical & electronic recycling services around the Surrey area. We recycle any electrical equipment from computers and laptops to servers and printers. Absolutely nothing goes to landfill and that is 100% guaranteed.
Recycling your IT can also shred your secure data to Department of Defence standards. This ensures maximum data security which helps with any legal requirements you may have. All companies that hold confidential data should be looking to use a certified IT Disposal partner for the removal and secure recycling of redundant IT equipment.
Many businesses in and around Surrey rely on us for their electrical equipment and secure data disposal needs. We use GPS tracked vehicles and we are fully licensed and insured so we can provide the relevant documentation you need to satisfy the Environment Agency and any internal audit.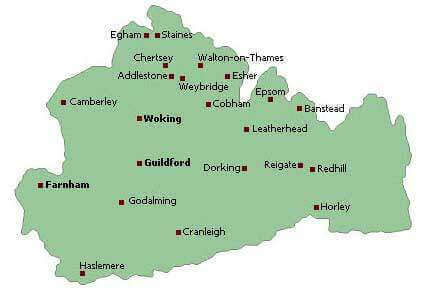 To use our PC recycling services in Surrey, you can simply give us a call or book online. All members of our staff are trained in IT Asset Disposal. They are friendly, efficient and professional. We cover the whole of Surrey and the South East and will collect from your premises, making the whole process seamless. We are used to operating in corporate environments around employees who are trying to get on with their everyday jobs, so we will commit to do our job with the minimum disruption to you.
IT Asset Disposal
Collections
Tonnes of e-waste kept
away from landfill
Please note – we are a corporate IT / WEEE recycling company. Unfortunately, we are unable to collect single items or household electronics.
We are a 100% Eco-friendly computer recycling company and adhere to WEEE directives, GDPR and other norms around Electronic Equipment recycling and secure data disposal. So if you're looking for reliable computer recycling in Surrey, look no further, just give us a call and we will be more than happy to help.
To use any of the services we offer or to get an idea on whether your collection will be priced, cost-neutral or money-back, then please drop us an email or call today. Someone within our team will be able to run through the process with you. Alternatively, if you already have an asset list then you can email it over so we can help value the equipment you're looking to dispose of.

Book A
Collection

IT Asset
Audit

Tracked
Collections

Secure Asset
Disposal

Document
Certification
We have found the collection process to be both simple and flexible and are looking forward to continuing the relationship into the future.
We are very pleased with the service you have provided us, and will recommend your company to whom it may be of interest.
I found Recycling Your IT to be extremely easy to do business with.
Recycle your IT have constantly stepped up to the challenges and supported our needs with 100% efficiency and have never fallen short of their promise.