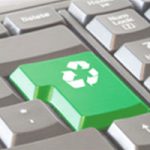 Waste Electrical and Electronic Equipment, also called WEEE, can be used to describe both the policies and procedures involved in recycling WEEE products as well as the item's themselves. Waste Electrical and Electronic Equipment includes a wide array of products that use electricity of batteries. This includes household appliances such as refrigerators, computer products such as laptops and media devices such as cell phones or smart phones.
Because these items contain different harmful elements or heavy metals, disposing of them can be very difficult.
Entire communities can be harmed should the contents of WEEE be released into the air. Some devices, such as smoke alarms, actually contain radioactive materials. Circuit boards inside of the devices contain not just hazardous materials, but also incredibly rare and valuable materials.
With the limited supply of the types of elements that are used to make WEEE devices and the difficulty that it takes to harvest them from the environment, it becomes economically advantageous to reclaim these materials from spent electronic devices. Some companies already attempt to do this, but some do not.
There are few consistent laws governing the disposal and recycling of WEEE. In the European Union, it is mandatory that electronics manufacturers provide a method for the safe and efficient disposal of the products that they create. There is no similar federal law in the United States, however many areas attempt to emulate the EU standards.
WEEE recycling is a great benefit to the planet and to the environment. Unfortunately, separating out the dangerous metals and other materials can be a difficult task. For this reason, many of the larger electronics manufacturers do not provide this service themselves. In fact, WEEE recycling can be so intensive that there are companies which simply ship their waste to poorer countries to be dumped in another landfill.
While it may be difficult, there are many companies around the world who offer to perform WEEE recycling so that consumers will not have to have their electronic products dumped into landfills. The number of these companies is growing, offering services that may allow products to be refurbished instead of just being melted back down into reusable scraps.