What is the WEEE Directive & how does it affect my Company?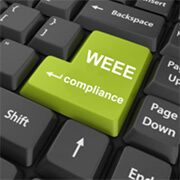 WEEE stands for Waste Electrical & Electronic Equipment. It is a European law that all businesses and government bodies have to follow. It was formed to stop electronic waste being dumped into landfill. Most electronic waste contains harmful chemicals which if left to decay in landfill will eventually leach toxins into our water table etc. Those toxins will then get into our food chain and ultimately into us. Also many earth minerals are running dangerously low so we need to recycle so that we can continue to build new items. There is also the fact to consider that recycling uses much less energy than extracting raw material from the earth.
Below for clarification is a list of all electrical waste the WEEE directive applies too:
IT and telecommunications equipment including computers, servers, photocopiers, mobile phones, printers, and facsimile machines
CRT monitors & LCD monitors
Large household appliances including electric cookers and dishwashers
Cooling and freezing appliances including household and commercial refrigerators, freezers and air conditioning units
Medium household appliances including microwave ovens, electric fans and electric radiators
Small household appliances including toasters, irons, vacuum cleaners and hairdryers
Consumer electronics including TVs, DVD players, hi-fi equipment, electric guitars, amplifiers, radios, cameras
CRT TVs & Flat panel TVs
Electrical and electronic tools including drills, electric saws, sewing machines, lawnmowers, sanders, nail guns
Toys, leisure and sports equipment including video game consoles, electronic fitness equipment electric trains and car racing systems, coin slot machines
Medical devices including analyzers, imaging and radio therapy equipment
Monitoring and control instruments including smoke detectors and thermostats
Automatic dispensers including cold drinks and snacks dispensers, cash machines
The law requires businesses and Government bodies to use a licensed recycler. On collection of your electrical waste you should be presented with a Duty of Care waste transfer note and where applicable, a Hazardous waste consignment note. This paper work must be completed correctly and will need to show the SIC code of your business and if applicable your Hazardous waste producers licence number. This paper work has to be kept for a minimum two years. Failure to follow this law can result in a minimum £5000 fine and or imprisonment.
Call us

today on 01279 215000 to find out how we can help you dispose of your IT equipment in a socially responsible way.