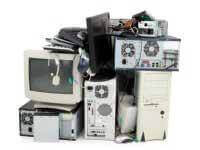 Why would you consider using a PC recycler? If you own a computer, then you probably know how quickly the latest technology goes out of date. With the fast paced advancement of computer technology, many people are opting to buy newer models more frequently.
There are an increasing number of computers sold every year and there are almost equally the same numbers of computers that are disregarded and not used.  You'll get to the point where your old computers will take extra space in your home and you'll need to get rid of them.  However, their improper disposal can also cause environmental problems, as each computer unit contains a number of toxic materials. To address this issue, computers need to be properly recycled.
Why use a PC recycler?
Dumping your old computers at the tip can allow others access to your information, which poses the threat of identity theft.
The toxins in computers are extremely harmful to the environment.
Only a PC recycler will be equipped to remove these harmful toxins safely and reuse or recycle as much of the computer as possible.
What to look for in a PC recycler
It is essential to look for a PC recycler that strictly follows the Waste Electrical and Electronic Equipment (WEEE) directive. This directive requires them to employ recycling methods that will not bring any harm to the environment.
You should also ensure that they will erase the data from your computer completely.
Make sure that the PC recycler to which you are sending your units is reputable and is as concerned about the environment as about profits. Find out whether they maximise the recovery of the computer components that are still usable. New computers or gadgets made partially with recycled materials can be offered at a lowered price.  This is a win-win situation to everyone.
What does a PC recycler do?
After wiping all data from the computer, a good PC recycler will maximise the recovery of any components of a PC that can be reused. Any equipment that cannot be reused is then sent for recycling. The IT equipment should be separated according to the type of material and materials like plastic, ferrous and non ferrous metals and parts such as circuit boards and batteries that cannot be burnt or buried sent for recycling.
Using a PC recycler will help you do your bit for the environment by ensuring that there is the minimum of waste and that harmful toxins are safely dealt with.
Find out more about using Recycling Your IT's PC recycler services.
Call us

today on 01279 215000 to find out how we can help you dispose of your IT equipment in a socially responsible way.