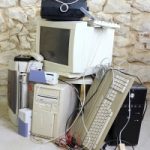 Old PCs and laptops are disposed of daily by UK companies replacing them with newer and better models. However many of them don't take the destruction of the data on those computers seriously and as a result sensitive information relating to employees, customers and suppliers, not to mention company trade secrets, can easily fall into the wrong hands.
Billing information and invoices, proposals and personal information are just some of the types of information that many companies are failing to properly remove from the hard drives of discarded equipment. It's not hard to imagine how this could come back to haunt you.
It's not just the information on old PCs that is a problem though. Disposing of IT equipment improperly means not only are valuable resources wasted that could easily be recycled and reused but toxic metals can also cause actual harm to the environment.
So why are UK businesses not recycling their old PCs properly?
It is not so much that they can't be bothered, but rather that they don't know how to go about it or get overwhelmed by how complicated it can seem, especially for small businesses. As well as the hassle factor many are also worried that it will cost them a fortune to get it done properly.
This isn't the case, however. Using a company like Recycling Your IT makes the whole process really simple:
You can be confident that you are complying with WEEE directives
Data destruction services ensure that information is completely wiped to the highest security standards
We recycle and reuse as much as we possibly can, so you know you are doing your bit for the environment
We are surprisingly affordable and the cost of our services is small in comparison with the fines that could result from non-compliance regarding WEEE or the serious consequences of your sensitive company information falling into the wrong hands
You can find out more about our Data Destruction and PC Recycling services on our website, or give us a call to discuss your requirements.