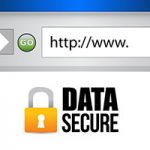 Over the years the need for private data on computers has increased on a global scale, with more and more everyday tasks taking place online, ensuring your data is safe is vitally important. The Data Protection Act is there to ensure that your data is kept safe and secure and that it is not used or shared without your permission.
This means that if you have documents or any other personal data anywhere, you can request to get your data wiped unless it is conflicting with police investigations or is in interest of a company's rules or contracts. If you have just left a job and you wish for your data to be removed from the company's books, you can request for it to be deleted and if it does not conflict with the above rules, the company has to do this.
Personal identity theft has increased over the last 20 years and so it is important to make sure that the people and companies you share your data with are doing what they can to ensure it stays safe. Theft of identity begins with someone gaining access to your information and falsely applying for things in your name, for example this could include; credit cards, catalogues or products.
It doesn't take much for someone to be able to do this. You can do your bit at home to make sure your data is safely and effectively destroyed or stored by either shredding any documents you wish to bin or by keeping files on an external hard drive and storing in a safe place.
So overall, you can never put a price on security and whilst it is impossible to be 100% secure there is quite a bit you can do yourself to limit the risk!
For more information on data protection, check out the Government's website https://www.gov.uk/data-protection