Our Tenth Anniversary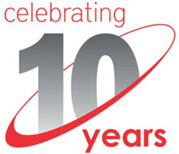 We are very proud to announce that in April 2015, we will have been in business for ten years.
We would like to take this opportunity to thank all our customer's for their continued and much appreciated support.
It's amazing to think that in 2005 we started in a garage and borrowed a van for our first collection, and after moving three times to meet our continued expansion, we now have several hundred repeat customers on our books, operate a fleet of multiple vehicles, and process about twenty five tonnes per week of WEEE waste. We have come a long way from those humble beginnings ten years ago.
So what's next; we're continuing to add to our portfolio additional services and capabilities. Social media and the internet has now become an essential part of everyone's business, and we are no different. You can easily find us online with blogs and information. We have now found ourselves in a position where we are out growing our current facility. We are therefore planning to extend oursite here to twice its size. This will require additional staff and equipment. So we hope the next ten years will be as good to us as the past ten.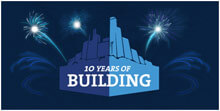 Finally, and as stated earlier, this milestone could not have been possible without our loyal customer's support and we will continue to strive to offer you the best customer experience possible.
Call us

today on 01279 215000 to find out how we can help you dispose of your IT equipment in a socially responsible way.