Laptop Recycling
At Recycling Your IT we provide a full-tracked Laptop Recycling process. We ensure all existing data is eradicated or destroyed. Often the laptops we refurbish can be given a second life and remarketed, ensuring a sustainable environment.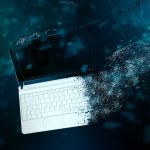 Laptops are a more compact, integrated and therefore more complicated version of the standard PC. When a laptop goes wrong it is harder to get it fixed, and harder to get the spare parts. Therefore, securely disposing of the laptop is the best solution for your data security as well as preserving the planet. Because of the vast numbers of laptops we receive, quite often we are able to use parts from one laptop to repair another.
If they cannot be repaired, we will then break them down for their raw materials. Every part is recycled and sent to specific refiners so absolutely nothing goes to landfill.
Get a Quick Quote
Please note – we are a corporate IT / WEEE recycling company. Unfortunately, we are unable to collect single items or household electronics.
If your laptop has a workable hard drive, we can either shred this into pieces of less than 1cm, or if they are reusable, we can eradicate the data using our specially designed software which meets the USA Government of Defense standards.
Some laptops still hold considerable amounts of value, through our Profit-Sharing scheme and Remarketing process we can sometimes offer clients a rebate depending on the quantity and value of the equipment we collect.
Call us today for more information on Laptop Recycling

Call us

today on 01279 215000 to find out how we can help you dispose of your IT equipment in a socially responsible way.