IT Disposal London – Our Services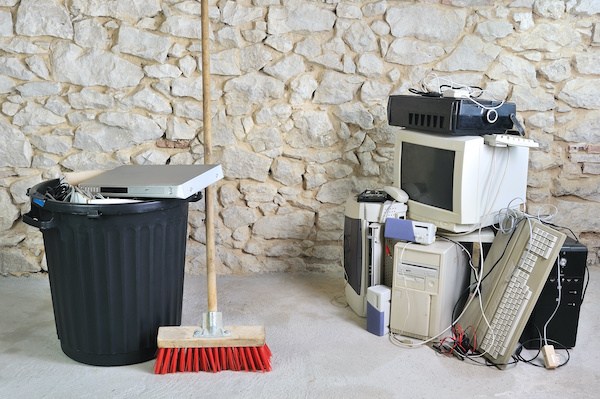 Our IT Disposal London looks after businesses with old and redundant IT equipment that they wish to dispose of. As a fully insured and licensed waste carrier, Recycling Your IT will collect and dispose of your laptops, computers, photocopiers, monitors, in fact pretty much anything with a plug. All of the waste we manage is tracked and the necessary paperwork completed for your records. As much as possible is re-used or recycled, giving you piece of mind that your waste isn't going to landfill.
What Services do you Offer?
IT Disposal London covers a range of services. Any IT Recycling company that is reputable should offer you safe and secure disposal of your IT equipment. They will have a Waste Carrier License, be fully insured and should be collecting the equipment from you. Most companies should be able to recycle both hazardous and non-hazardous IT equipment plus provide this service with a zero impact upon your environmental policy.
Data removal is another service that a lot of companies who specialise in IT Disposal will be able to offer you. They can safely and securely remove any old data for you to ensure you company or personal data does not get in to the wrong hands. This can be done on your site or after collection has occured.
Environmentally Friendly IT Disposal London
No IT disposal equipment should ever be burnt or sent to land-fill. With our knowledge today on the damage this causes our environment there is no excuse for anyone to send unwanted IT equipment to land-fill. Any reputable IT Disposal London company will refurbish, reuse and/or recycle the equipment depending on the condition and usable parts available.
These IT disposal London companies will test the equipment first then decide whether it is better to refurbish or reuse the parts available to them. Any equipment that is beyond repair or cannot be reused will get broken down in to its raw state, and then sent on to specialist recyclers who will break the materials down even further so that they can be used again in new products.
IT disposal Beware!
Like any business you get good guys and bad guys in the industry. You need to be wary of the bad guys, the people who come in to this industry to make a quick quid and cause a lot of damage to our environment. Always make sure the company you use to dispose of your IT is licensed through an Environmental Agency and are fully insured both on and off site. They should have no problems showing you these documents if you request them. Remember, you are ultimately responsible for what happens once the old kit leaves your premises and it is your responsiblity to make sure that the company you use if following all current legislation. If you do not, then you could be fined.
What company should I use?
Recycle Your IT is a reputable company that has been in the industry since 2005. They are based near Stansted airport so have easy access to many parts of London, Essex and beyond. Their recycling facility is not far away from the head office, set in the countryside to add to their "Environmentally Green Message" that hey strongly stand by! you don't have to use us of course, but please do make sure that whoever you work with have the correct paperwork, licenses and insurance in place. The cheapest option is often not the best one. At Recycling Your IT we offer a professional service, teamed with good value for money, we even have schemes available for larger clients who could actually make money from their waste.
Call us

today on 01279 215000 to find out how we can help you dispose of your IT equipment in a socially responsible way.