Hertfordshire Computer Recycling
Recycling Your IT provides a variety of IT recycling services around Hertfordshire. Including PC Recycling, Monitor Recycling, Server Recycling and Network Equipment Recycling to Recycling of Printers, Photocopiers and Fax Machines, we provide a wide range of WEEE compliant computer recycling services in and around Hertfordshire.
Recycling your IT securely wipe data from storage devices and even shred hard drives, if required, thus ensuring maximum data security. Many businesses in Hertfordshire rely on us for their IT equipment disposal needs. We also provide the required quality assurance documentation that you'll need to clear audits.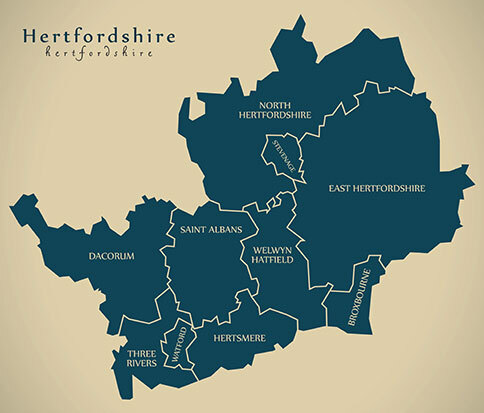 IT Asset Disposal in Hertfordshire
To use our Computer recycling services in Hertfordshire, you can simply give us a call or email. All of our staff are trained in IT disposal and computer recycling and are friendly and efficient. We are used to operating in corporate environments around employees who are trying to get on with their everyday jobs, so we will commit to do our job with the minimum disruption to you. We are a 100% eco-friendly computer recycling company and adhere to WEEE directives and other norms around Electronic Equipment recycling and disposal. So, if you're looking for IT Equipment Recycling in Hertfordshire, don't hesitate to get in touch with us.
IT Asset Disposal
Collections
Tonnes of e-waste kept
away from landfill
Please note – we are a corporate IT / WEEE recycling company. Unfortunately, we are unable to collect single items or household electronics.
Services in Hertfordshire
Many of our clients in the Hertfordshire area have used our services for a number of years as we offer the most secure service possible, backed up our ISO certifications. At RYIT we're always looking at continuous improvement, ensuring that our clients don't have to worry about their data falling into the wrong hands. We're completely transparent, meaning you the client can see where your assets are at every stage of the process, from the sanitisation of storage devices to the remarketing of refurbished assets.
Dependant on the value of your redundant equipment, you may be eligible for a free collection or a potential rebate. So if you're looking to upgrade your IT hardware or simply having a clear out, call one of our experts today to discuss the process and see if there is any value left in your unwanted assets.

Book A
Collection

IT Asset
Audit

Tracked
Collections

Secure Asset
Disposal

Document
Certification
We have found the collection process to be both simple and flexible and are looking forward to continuing the relationship into the future.
We are very pleased with the service you have provided us, and will recommend your company to whom it may be of interest.
I found Recycling Your IT to be extremely easy to do business with.
Recycle your IT have constantly stepped up to the challenges and supported our needs with 100% efficiency and have never fallen short of their promise.
Call us today on 01279 215000 to find out how we can help you dispose of your IT equipment in a socially responsible way.
Call us
 today on 
01279 215000
 to find out how we can help you dispose of your IT equipment in a socially responsible way.