Computer Recycling Essex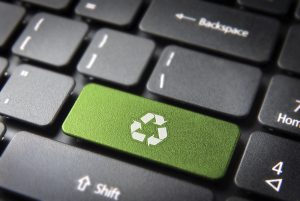 Are you looking for computer recycling in Essex? Recycling Your IT have handled IT Equipment Recycling for several businesses in Essex over the past 13 years. Our computer recycling process is 100% eco-friendly and adheres to WEEE directives and other norms around IT Equipment recycling and disposal.
Complete traceability of assets, security of data and documented proof for legal compliance have made us one of the preferred companies for IT equipment recycling in and around Essex. Whenever you have an IT Equipment disposal requirement, just contact us by phone or email. We will send one of our GPS tracked vehicles from our huge fleet to collect your IT Equipment from anywhere in Essex.
We separate any IT Equipment that is in working condition, refurbish it and distribute it for re-use across UK and even to some of the developing nations. Any IT Equipment that cannot be re-used will be broken down into its component raw materials. We then send these raw materials to be recycled by specialist refiners.
We have a variety of IT Equipment Recycling services for companies in Essex –including computer recycling, monitor recycling, server recycling or network recycling. We will also provide you with the appropriate Environment Agency paper work. We ensure complete security of your data and if you have opted to have your sensitive data wiped then we will provide you with certificates to verify it has been done.
Our computer recycling processes are safe and eco-friendly. We do not bury or burn any of the IT equipment and hardware we receive – no toxic fumes and nothing sent to landfill. So, if you are in Essex and have an IT equipment recycling or computer recycling need simply get in touch with us right away!