You are planning to recycle your Laptops, Mobile Phones and PCs, but worried about the plight of your precious, sensitive and confidential data in the hard drive? Recycling Your IT can take care of all your data related worries! Our Data Wipe or Destruction services ensure complete security for your data.
Our Data Destruction Services also includes the secure erasure of your disk so that the hard drive can be reused or disposed of with the knowledge that the data cannot be recovered. We provide certification to prove that your data no longer exists on the device you gave to us, all liability is transferred to Recycling Your IT upon collection of your redundant assets.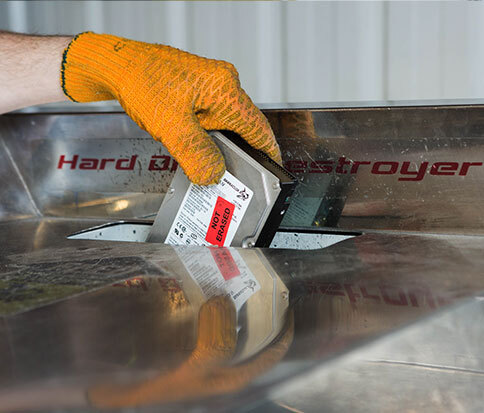 The Importance of Data Security
Our storage devices and drives contain confidential data such as Photos, Letters, Credit card numbers, Passwords, Customer lists, Contracts etc. Some people think by hitting the hard drive with a hammer or some other form of instrument, they can destroy the data inside. However, there is still a strong possibility the data can be recovered. The services we offer ensure 100% erasure or destruction.
The General Data Protection Regulation stipulates that any personal information must be destroyed under secure conditions in order to avoid them falling in malicious hands. Data destruction or data erasing services protect the privacy of your customers and also help you prevent identity theft.
IT Asset Disposal
Collections
Tonnes of e-waste kept
away from landfill
Please note – we are a corporate IT / WEEE recycling company. Unfortunately, we are unable to collect single items or household electronics.
We Offer Secure Data Destruction Services
We guarantee the complete destruction of data by either wiping the hard drive with a specialist piece of software which eradicates the data to US Government defence standards or by shredding the hard drive through a commercial mobile shredding machine making sure it comes out in pieces of 1cm or less.
We will erase computer disks, tapes and other storage media in line with the WEEE Directive. We also provide a certificate of destruction, data protection and insurance records. Any hard drives that are 80GB or more in size do have a reuse value and therefore, we would prefer to wipe rather than destroy as this is better for the environment. However, it is at the customers' discretion.
Obviously, data security is of absolute importance and therefore if you have any questions, please do not hesitate to contact us and speak to one of our data cleansing specialists.

Book A
Collection

IT Asset
Audit

Tracked
Collections

Secure Asset
Disposal

Document
Certification
Slide
We have found the collection process to be both simple and flexible and are looking forward to continuing the relationship into the future.
Slide
We are very pleased with the service you have provided us, and will recommend your company to whom it may be of interest.
Slide
I found Recycling Your IT to be extremely easy to do business with.
Slide
Recycle your IT have constantly stepped up to the challenges and supported our needs with 100% efficiency and have never fallen short of their promise.