WEEE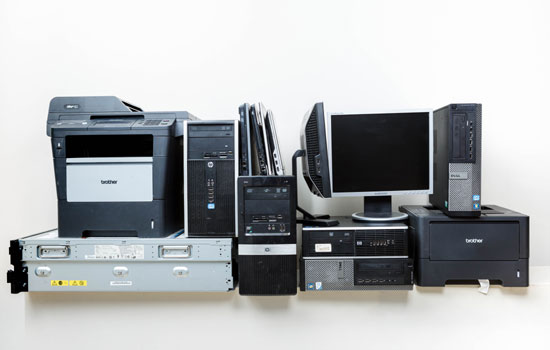 Waste Electrical and Electronic Equipment (WEEE) can cover a wide range of items; according to the EU there are 10 categories, covering areas from computers to washing machines, but here at Recycling Your IT our focus is to help business customers who are looking to replace or recycle any office technology.
Who Should Read This Page
Anyone concerned with Environmental Compliance
Anyone concerned with Security Compliance
Anyone concerned with Equipment Removal
IT Managers
Office Managers
Facilities Managers
Outsourced IT Providers
What We Do
We ensure that all data stored on PCs, Laptops, Servers, Tablets and Smartphones is completely eradicated (hyperlink to secure-data-wiping), and where possible we will make sure that equipment is refurbished and reused. As a last resort, we break items down to components that can be recycled for raw materials, ensuring that nothing goes to landfill.
We apply proven systems that are fully compliant with WEEE and data protection legislation, being licensed by the environment agency and registered with the Office of the Information Commissioner.
Our services are tailored to meet either of two streams. They are our fully featured "Corporate Service", or our cost effective "Secure IT Disposal Service". The features of each are shown below:
Corporate Service
Secure IT Disposal Service

Fully Traceable
Comprehensive Asset Tracking
Customer provides asset specifications
Customised asset reports
Data wiping and tracking report available
Customised environmental reports
Bespoke costing
Zero to landfill

Free collections more than 20 complete items of IT
Some WEEE can also be included
Standard Data wipe
Standard asset tracking for reporting split of reuse vs recycle
Includes secure document shredding
Zero to landfill
All of our IT disposal services are WEEE compliant, and exceed all current environmental and Data Protection legislation.
Our Corporate Service is ideal for those companies with established policies and procedures on Corporate Social Responsibility, and our Secure IT Disposal Service is ideal for all other businesses.
Call us

today on 01279 215000 to find out how we can help you dispose of your IT equipment in a socially responsible way.
Read more about WEEE :