Secure Document Shredding

FACT: Under the Data Protection Act, organisations must employ a data destruction service to destroy redundant confidential information.
Corporate Fraud is on the increase. Recent news reports suggest that fraud costs the UK £30 billion per year. Most companies do not realise the possible huge impact to their business which could arise from confidential data inappropriately held or disposed of by them.
Document Shredding – Data Protection Act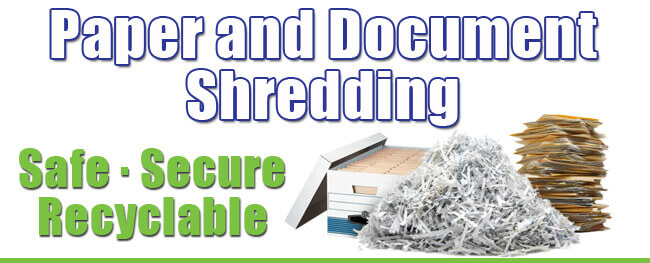 Every business has a legal obligation to protect the confidential information it holds on its employees, customers and suppliers. Failure to do so can result in heavy fines or even imprisonment for the person responsible.
The Information Commissioner's Office (ICO) is now able to fine businesses up to £500,000 if they lose individuals' confidential data.  This amount has been increased from £5000, to highlight the importance of data security, and to protect individuals from the threat of ID fraud.
The seventh principle of the Data Protection Act states that organisations must employ a data destruction service to destroy redundant confidential information that can be either in paper or electronic format.
Using an accredited supplier that can destroy confidential material in a secure environment will give you peace of mind that your company and associates are protected against ID Fraud.
Our Document Shredding Services
We use the pictured machines which cross cut your documents to DIN security Level 3 standards. The shredded paper is then sent off for recycling.
Our vehicles are locked from the time they leave your premises until they reach ours. Documents are then destroyed within twenty four hours. Our location is monitored twenty four hours a day via CCTV and monitored alarm. Our employees have all been with us for some years and are security checked.
We provide a certificate of destruction with each collection. We can either provide you with sealable plastic bags (22" X 30") or wheelie bins (240 Litres)
Like everything else we do our pricing is simple and transparent:
Bags £3.95 each + VAT minimum collection of 15 bags.
Wheelie bins £47.95 each + VAT minimum collection of 2 wheelie bins.
The wheelie bins are provided on a free hire basis and remain our property.
Complies BS EN15713:2009
All destruction is carried out in a secure environment utilising a "double shred" system reducing all material to a 15mm cross cut shred. It is then baled and recycled in line with the requirements of this standard.
Call us

today on 01279 215000 to find out how we can help you dispose of your IT equipment in a socially responsible way.