Onsite Services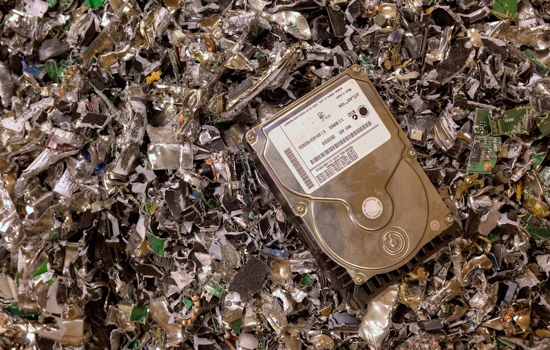 We understand that data security is one of the biggest contributing factors when deciding which IT Asset Disposal company to use. That's why we offer on-site services to ensure total transparency and security to our clients. The clients who use this service have the opportunity to see first hand the process we go through when destroying storage devices.
At Recycling Your IT, we have the capability to erase or destroy storage drives at your premises. Using our mobile hard drive shredder, we can access most rooms within your facility. Designed to fit through a 3ft 6in doorway, it can be placed inside most buildings with a disabled access point. All we need is access to a standard UK plug socket. Furthermore, our hydraulic press can deliver on-site deformation to any hard drive, rendering the drive useless and ready for transport to our unit for further recycling.
Benefits of Data Wiping On-Site
Physical destruction on-site allows you to monitor the process throughout, easing any security concerns you may have. We also offer a service whereby hard drive shredding can take place on our securely tracked vans, minimising the disruption to your daily business operations.All of our staff are rigorously security vetted and our vehicles fitted with GPS satellite tracking.
All our on-site services are backed up by our inventory generation capabilities. We have supplied this to clients as a standalone service, generating asset registers before equipment is selected for disposal, providing clients a complete list of all equipment intended for disposing, before collection takes place.
We offer this service with the guarantee of 100% data security, this is backed up by our ADISA accreditation and ISO 27001 (Information Security Management) certification. This certification puts us in the top 5% of companies operating in our field.
Please get in touch to find out more about our on-site services and how we can help meet your physical destruction requirements.