Network Equipment Recycling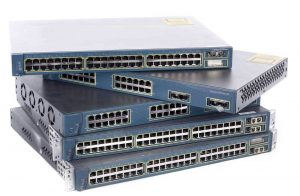 A common oversight when recycling network equipment is to leave it loaded with operational settings. This could mean that a complete stranger could log into your network as a trusted user and have full access to all of your confidential information.
At Recycling Your IT, we can ensure all existing data is destroyed or overwritten. Depending on the asset we can reset your networking equipment back to factory defaults, and make sure that all of your passwords are cleared. Some assets will even have storage devices inside, these can either be erased or destroyed depending on your request.
We process several different networking assets including:
Wireless Access Points (WAPs)
Networking switches
Routers
Firewalls
Get a Quick Quote
Please note – we are a corporate IT / WEEE recycling company. Unfortunately, we are unable to collect single items or household electronics.
The majority of networking assets that come through our doors are Cisco or HP, however we have the ability to process any form of networking equipment, with the aim of giving it a second life. We have the experience and expertise to handle all networking equipment with care and ensure data security is achieved.
Any network equipment that cannot be refurbished or reused will be broken down into metals, circuit boards and recycled for raw materials.
Call us

today on 01279 215000 to find out how we can help you dispose of your IT equipment in a socially responsible way.